This class action settlement applies to mortgages on properties
located in the province of Quebec only.
The claims process ended on November 3, 2023
Case name
CIBC Interest Rate Differential ("IRD") Mortgage Prepayment – Quebec Class Action
Quebec Superior Court file #
500-06-000930-186 (Montreal)
WHAT IS THIS CLASS ACTION ABOUT?
An action was brought by a Quebec resident against CIBC in connection with the calculation of certain prepayment charges based on an Interest Rate Differential ("
IRD
") on mortgages on properties located in the province of Quebec in S.C.M. file no. 500-06-000930-186 (the "
Class Action
").
WHO IS AFFECTED BY THE CLASS ACTION?
This Class Action affects the rights of all Class Members. If you are a Class Member, you are automatically included in the Class Action.
In order to receive compensation, you must submit the claims form available here by November 2, 2023
.
WHAT SETTLEMENT HAS BEEN REACHED?
CIBC has agreed to pay the total amount of $3 million in settlement of the Class Action (the "
Settlement
"). In return for the payment of the Settlement, the Settlement provides that the claims of all Class Members asserted or which could have been asserted in the Class Action will be fully and finally released. The Settlement is a compromise of disputed claims and is not an admission of liability or wrongdoing by CIBC. The Settlement was approved by the Superior Court of Quebec on March 10, 2023.
WHO CAN SUBMIT A CLAIM?
Class Members who borrowed and prepaid on certain dates are eligible for compensation. Class Members who experienced Special Circumstances (namely, the death of a co-borrower, the divorce from a co-borrower or an incapacitating illness) in the thirty-six (36) months before prepayment might be eligible to higher compensation. To claim compensation, Class Members must submit a completed claims form by no later than November 2, 2023 (the "
Claims Bar Deadline
"). If you do not file a claims form by the Claims Bar Deadline, you will not be able to claim money from the Settlement, and your claim will be extinguished.
You can reference the Chart, set out below, which details the periods of time during which a Class Member was most likely to have paid a Prepayment Charge calculated with reference to an IRD: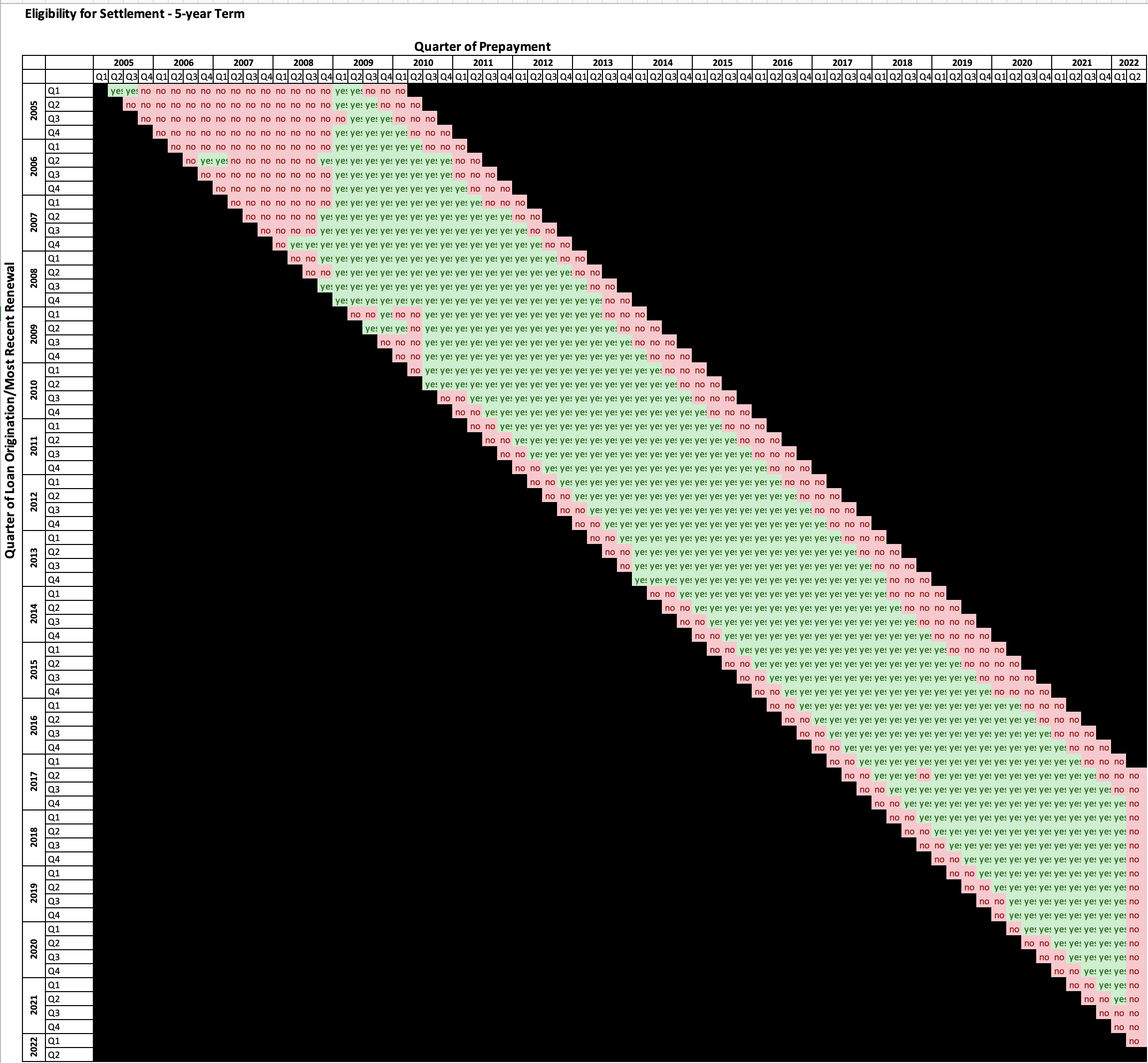 WHO IS CLASS COUNSEL?
The law firm of LPC Avocat Inc. represents the Class Members. You may contact Class Counsel listed below. Your name and any information provided will be kept confidential.
Mtre Joey Zukran
Telephone: (514) 379-1572
Email:
jzukran@lpclex.com
276, Saint-Jacques Street, Suite 801, Montreal, QC, H2Y 1N3
More information can be found in the
documents
section.
Important Dates
---
November 2, 2023
Claim Form Deadline
---
February 6, 2023 at 9:30 a.m.
Approval Hearing
---
January 31, 2023
Opt-Out Deadline
Objection Deadline
---
Act now! Class Members have until November 2, 2023 to file a claims form in order to obtain compensation under the terms of the Settlement

SUBMIT A CLAIM